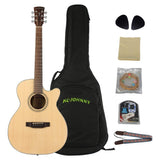 KC-JOHNNY Acoustic Guitar / 41" / Cutaway Solid Spruce Mahogany Green Pearl, EXP-16 Strings【Fluvial】KC-FM-4050C
|   Product Description  |
Fluvial cutaway acoustic guitar is a pleasure to look at and to play .
Fluvial-W is a very versatile and affordable guitar with a big, bold sound and excellent features ideal for any player seeking a well-built and easy-playing guitar.
It features a laminated spruce top and mahogany back and sides.
 FEATURES
★  Great quality
Solid Spruce for the top,  Mahogany for the side and back, you'll immediately feel how comfortable it is when you hand it.
★
Make friction fiction
String and fingerboard friction not only slows your playing but also can hurt. Rosewood fingerboard and bridge ,20 Frets, 235C-M9 Hardware, provides sleek, smooth action with reduced string noise also  bring you richer and brighter sound.
★
Good start 
 Size 40"cutaway KC-JOHNNY Guitar is the best choice guitar for the any musician. ( Right hand-designed).
★  Full set   
 Come with KC-JHONNY Guitar bag(10mm), strap, string set, tuner, cloth and picks as a gift.
Specification
Shape : 40" Cutaway GA body
Top : AAA Solid Spruce
Back : AAA Mahogany
Sizes : AAA Mahogany
Fingerboard : AAA Rosewood
String Length : 648mm
Frets : 20
Binding : Black ABS
Bridge: : AAA Rosewood
Nut : Cow bones
Saddle : Cow bones
Decal : Green Pearl
Headstock top : Gloss
Guitar Top : Gloss
Guitar Sides : Gloss
Neck Back : Gloss
Bottom Strap : Silver
String : D'addario EXP-16
Hardware : DJ235C-M9
Beginner kits : 10mm Gig Bag*1, String 1set, Strap*1,cloth*1,Picks*2