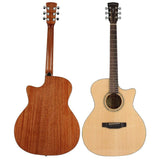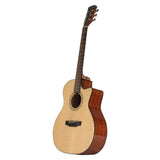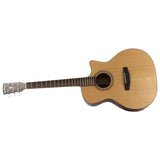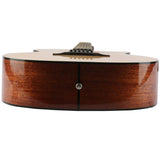 KC-JOHNNY Acoustic Guitar / 41" / GA Cutaway All Solid Spruce Mahogany Green Pearl, EXP-16 Strings【Fluvial-W】KC-GAM-4150C
|   Product Description  |
This popular cutaway Fluvial-W entices players of all styles with an array of sonic delights, starting with the classic wood pairing of solid Spruceand Mahogany.
Fluvial-W is designed as advanced version with affordable price , which not only enhances the voicing with more volume, sustain and projection, but also improves the intonation along the entire fretboard, yielding greater clarity, consistency and harmonic agreement between notes.
 FEATURES
★  Great quality
Solid Spruce for the top,rosewood for the side and back, you'll immediately feel how comfortable it is when you hand it.

★  Make friction fiction
String and fingerboard friction not only slows your playing but also can hurt. Rosewood for neck, fingerboard and bridge ,20 Frets coating provides sleek, smooth action with reduced string noise.
★
Good start
 Size 41" KC-JOHNNY Guitar is the best choice guitar for the any musician.( Right hand-designed )

★  Full set
Come with KC-JHONNY Guitar bag(10mm), strap, string set, tuner, cloth and picks as a gift.
Specification 

Shape: Full body 41" GA Cutaway
Top:AAASolid Spruce
Back: AAA Mahogany
Sizes: AAA Mahogany
Fingerboard: AAA Rosewood
String Length: 648mm
Frets: 20
Binding: Black ABS
Bridge: AAA Rosewood
Nut: Cow bones
Saddle: Cow bones
Headstock top: Gloss
Guitar Top: Gloss
Guitar Sides: Gloss
Neck Back: Gloss
Bottom Strap: Silver
String: D'addario EXP-16
Hardware: 235C-M9
Beginner kits: 10mm Gig Bag*1, String 1set, Strap*1,cloth*1,Picks*2