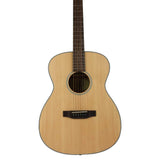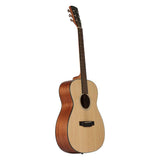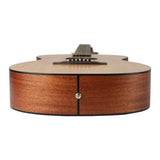 KC-JOHNNY Acoustic Guitar / 41" / Mahogany / Natural Color【Classic】KC-OM-451
|   Product Description  |
KC-JOHNNY the simply ideal classical guitar that is easy to play!

Classic is designed to provide the perfect mix of tone, performance, and traditional style for all players and every stage. It is hand-built in our factory using time-tested KC-JOHNNY build techniques like hide-glued dovetail neck joints and domed top braces along with modern features like slimmer body depths and Advanced Response neck profiles.
A solid spruce top and solid Mahogany back and sides deliver crisp sounds with plenty of wonderful overtones no matter in the studio or on stage.
It represents a new point of entry into KC-JOHNNY acoustics and a new precedent for sound and quality. 
 FEATURES
★  Great quality
Mahogany for the side, neck, and back, you'll immediately feel how comfortable it is when you hand it.
★
Make friction fiction
String and fingerboard friction not only slows your playing but also can hurt. Rosewood fingerboard and bridge, 20 fret coating provides a sleek, smooth action with reduced string noise.
★  Good start 
Size 41" KC-JOHNNY Guitar is the best choice guitar for any musician.(Right hand-designed)
★  Full set
Come with KC-JHONNY Guitar bag(10/20mm), strap, string set, tuner, cloth and picks as a gift
Specification
Shape: 41'' OM body
Top: Spruce
Neck: AAA Mahogany
Side: AAA Mahogany
Fingerboard: AAA Rosewood
Back: AAA Mahogany
Bridge: AAA Rosewood
String: D'addario
Soundhole diameter: 102mm
Fret: 20
Headstock top: Gloss
Guitar Top: Gloss
Guitar Side: Gloss
Binding: Black ABS
Nut: ABS
Saddle: ABS
Beginner kits: 10mm Gig Bag*1, String 1set, Strap*1,cloth*1,Picks*2