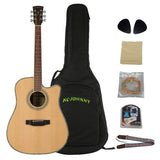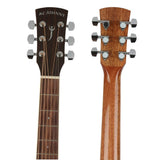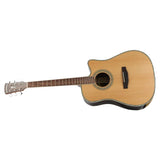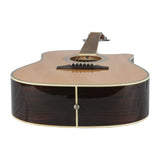 KC-JOHNNY Acoustic Guitar / 41" / Solid Spruce Top Green Pearl Binding D'Addario String Package kit【Dreadnought Pearl】KC-DR-4110C
|   Product Description  |
Our cutaway Dreadnought Pearl has long been a staple of gigging and recreational players thanks to its musical versatility and clean, workmanlike aesthetic.
Crafted with back and sides of Rosewood and a Solid spruce green peal design top.
 FEATURES
★  Great quality
Solid Spruce for the top, Rosewood for the side and back, you'll immediately feel how comfortable it is when you hand it.

★  Make friction fiction
String and fingerboard friction not only slows your playing but also can hurt. Rosewood fingerboard and bridge ,20 Frets, 235C-M9 Hardware,,provides sleek, smooth action with reduced string noise also bring you richer and brighter sound

★  Good start 
Size 41" KC-JOHNNY Guitar is the best choice guitar for the any musician.( Right hand-designed ) 

★  Full set   
Come with KC-JHONNY Guitar bag(10mm), strap, string set, tuner, cloth and picks as a gift.
Specification
Shape:41''cutway Martin shape Dreadnought
Top: AAA Solid spruce green peal design
Back: AAA Rosewood
Side: AAA Rosewood
Nut: cow bone
Saddle: cow bone
Neck: AAA Mahogany
Fingerboard: AAA Rosewood
Bridge: AAA Rosewood
Frets: 20
String: D'addario (EXP-16)
Head stock top: Gloss
Guitar sides: Gloss
Neck back: Gloss
Beginner kits: 10mm Gig Bag*1, String 1set, Strap*1,cloth*1,Picks*2