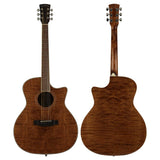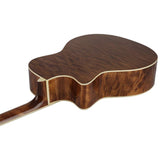 KC-JOHNNY Acoustic Guitar / Flamed Mahogany Body Package kit 【Burning Man】KC-GAFM-460C
|   Product Description  |
Burning man is a Dreadnought-style guitar with a flamed mahogany top,  delivers a responsive tone with a comfortable, inviting feel that will inspire players of all skill levels. With a bold acoustic tone and the inimitable playing experience offered by KC-JOHNNY.
FEATURES
★  Great quality
Flamed mahogany for the top, the side, and back
★  Make friction fiction
String and fingerboard friction not only slows your playing but also can hurt. Rosewood, Mahogany for fingerboard and bridge, 20 fret coating provides a sleek, smooth action with reduced string noise.
★  Good start 
Size 41" KC-JOHNNY Guitar is the best choice guitar for any musician. (Right hand-designed)
Come with KC-JHONNY Guitar bag(10mm), strap, string set, tuner, cloth and picks as a gift

Specification
Shape: 41" Cutaway GA body
Top: Flamed AAA mahogany
Back: Flamed AAA mahogany
Side: Flamed AAA mahogany
Nut: cow bone
Saddle: cow bone
Neck: Flamed AAA mahogany
Fingerboard: AAA Rosewood
Bridge: AAA Rosewood
Frets: 20
String: D'addario
Headstock top: Gloss
Guitar sides: Gloss
Neck back: Gloss
Bottom strap: Silver
Beginner kits : 10mm Gig Bag*1, String 1set, Strap*1,cloth*1,Picks*2