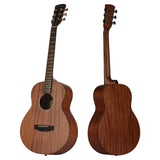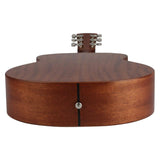 KC-JOHNNY Acoustic 41 inch Guitar Full Body Mahogany 6 in1 kit【Crossroads】KC-GSMM-350
|   Product Description  |
Crossroads is an ideal instrument for the beginner, or musician. The body depth and width bring out balanced tone and plenty of projection to be heard from across the room.
This ultra-affordable dreadnought acoustic guitar features a Mahogany wood body, which brings out lots of mid-range punch. The Premier also features DJ235C-M9 hardware and covered tuners.


 FEATURES
★  Great quality
Shape GS full body guitar,Spruce for the top, Mahogany for the side and back, Black ABS binding,you'll immediately feel how comfortable it is when you hand it.

★
Make friction fiction
String and fingerboard friction not only slows your playing but also can hurt. Rosewood fingerboard and bridge ,20 fret , DJ235C-M9 Hardware coating provides sleek, smooth action with reduced string noise also bring you richer and brighter sound.

★  Good start 
Size 41" KC-JOHNNY Guitar is the best choice guitar for the any musician. ( Right hand-designed) 

★  Full set 
Come with KC-JHONNY Guitar bag(10/20mm), strap, string set, tuner, cloth and picks as a gift

Specification:
Size: 41'' GS full body
Top: AAA Mahogany
Back: AAA Mahogany
Side: AAA Mahogany
Neck:AAA Mahogany
Nut: Plastic steel
Saddle: Plastic steel
Fingerboard: AAA Rosewood
Bridge:AAA Rosewood
Bridge shap: Martin shap
Sound pot: 4mm Abalone look
Side sound pot: 1.5mm white dot
Frets: 20
String: D'addario
Headstock top: Satin
Guitar sides: Satin
Guitar top: Satin
Neck back: Satin
Bottom strap: Silver
Beginner kits: 10/20 mm Gig Bag*1, String 1set, Strap*1,cloth*1,Picks*2