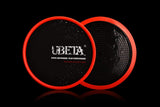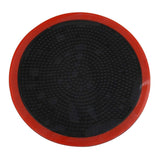 UBETA Black Drum Practice Pad / 6 Inch / Mute Pad Rack Drum for Combat Practicing
UBETA 6-Inch Practice Pad UPP Pad weighs less than a half pound and fits perfectly into almost any drum stick bag or travel bag

Ultra Portability for ultimate maneuverability - The UPP Pad was created to give musicians the ability to practice their paradiddles and strokes anywhere, anytime, and in almost any condition.

Sticks to almost any surface - Rinse and dry with water and an absorbent cloth to restore the pad's sticky functionality

Easy to clean and water resistant - If the UPP Pad collects dust, no problem! Rinse off with water for like-new performance.

Eco-friendly with a snare percussion feel - The neoprene rubber material reduces the volume so you can practice quietly
SPECIFICATION
UBETA practice pad allows you to practice anywhere,any time, on almost any surface and just got a whole lot easier.
The secret is the UBETA sticky back technology, which allowers you to place the easy sticker on a surface,play,and lift up again without leaving any unsightly marks.

If the easy sticker gets dirty,It can be easily washed off and is ready again to stick and play.


At 6 inch diameter, the UBETA practice pad is easily transportable. Just put in your stick bag an GO!