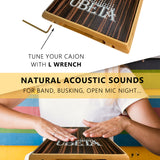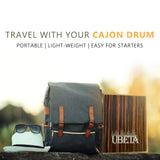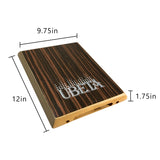 UBETA Compact Travel Cajon Box Drum Flat Hand Drum Percussion Instrument with Adjustable Strings【 Veined Ebony 】
|   Product Description   |
The UBETA Compact Travel Cajon with Adjustable Strings is special design for travel can be freely for carrying can warm up every place by anyone's hands.
Made of high-grade Birch and Veined Ebony body that well-known for their toughness, durability and excellent sound resonance.
The tapping side has special steel strings that make out cool sound, and back of the pad also owns natural wood sound. Alternatively, you can use a brush to play the pad instrument to alternate between different sounds.
If you are looking for something you can give as a gift, this Cajon will do just fine.
FEATURES


★   QUALITY MATERIALS  
UBETA flat shape cajon's front and rear faces are made of veined ebony veneer with beautiful texture. And the box drum body is made of birch wood with exquisite workmanship has excellent tonal qualities that broaden your bass notes and focus your rolls and corner hits to take your beats to the next level.

★   PERFECT FOR DIFFERENT USAGE  
Suitable for band accompaniment or rhythm sense practice.

★   COMPACT AND LIGHTWEIGHT FOR TRAVEL   
Comes in size 9.75" x1.75" x12" and weighs only 1.9lbs. Easy to carry around.

★   SPECIAL STEEL STRINGS  
There are metal strings attached to the corners of the playing surface. You can adjust them from the bottom of the Cajon to give you additional snare sound, and back of the pad also owns the natural wood sounds.

★   CASUAL PLAYING  
You can tap the PAD tapping or back or use brush to play the pad cajon, which can make out different sound effects.

★   IN HOUSE QUALITY CONTROL  
We check and polish each fret in our California warehouse to give you the best playing experience with smooth neck. We also loose the strings before shipping so it won't break during the transition.

★   EXCELLENT GIFT FOR BEGINNERS  
Comes with a bag for convenient carrying and storage, a hex key to tune.