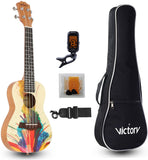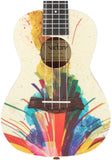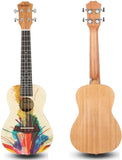 VIVICTORY Splash Painting Concert Ukulele 23 Inch, Spruce Mahogany Body with Beginner kit : Gig Bag,Tuner,Straps,Picks and Nylon String Concert Ukulele 23"【Fountain】
|  Product Description  |
The easy-playing VIVICTORY ukulele puts fun in everyone's hands. The ukulele is designed around a bound mahogany body for exceptional sound and outstanding looks.
It will bring you authentic artwork presented on a fantastic, handmade concert ukulele with a warm, open tone and a bound fingerboard for comfortable playability.
There are four different versions to choose from, each with its own artwork to represent different personal style.
FEATURES
★ Finest Quality Tonewood

Body and neck using produced from African Mahogany,Top spruce richer, louder sound
Indonesian rosewood fingerboard using, give you a comfortable playing experience

★ Your First Music Instrument
A great choice for music beginners at a reasonable price. Choose the one that matches your style!

★ Sound Like A Pro
What makes a good Ukulele isn't the price, it's the quality of its sound. VI VICTORY Ukulele gives you the sound of professional Ukulele.
★ 30-Days Money Back Guarantee
If for any reason you're not satisfied with your purchase, simply return the product and we will offer you a full refund.
Specification

TOP: Spruce
Back: AAA Mahogany
Sides: AAA Mahogany
Neck: Okume
Machineheads: Die-Cast, Chrome
Strings: Italy Aquila
Nut and Saddle: Cow bones
Finish: Satin
Bridge: Innovative design, easy to replace the strings
Ukulele Bag: Made from canvas. Thickening and soft-sided design, 6mm thick. Easy to carry and protect the ukulele
Tuner: Chrome Clip-On Tuner for guitar, bass, ukulele, violin
(includes manual and battery)